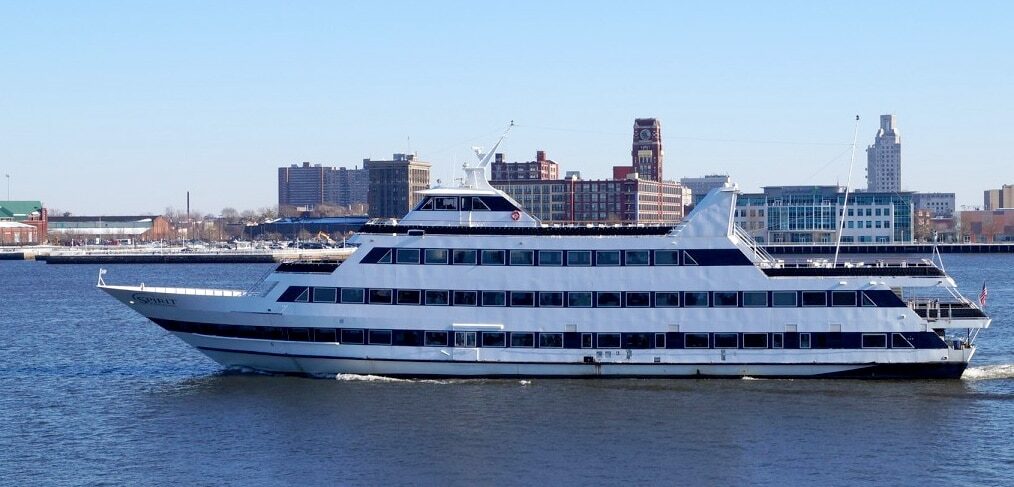 Rainmaker Client Conference – Philadelphia, PA
We really love performing at events like this and our show is perfect for it. The clients of RainMaker are spread out across the country and the event planner at RainMaker really wanted to bring something different to their client conference on a dinner cruise out of Philadelphia. She wanted something that would get their group involved with each other and would leave a great impression afterward. Even though they were having a DJ, she knew that not everyone would dance, so she leveraged our talents to add a unique angle to her event. We worked closely with the event planner to craft just the right experience for her group.
The weather was beautiful, the cruise was wonderful and most importantly, the guests at the RainMaker event were a joy. They were an enthusiastic group that were very willing and eager to participate. Post show we had the chance to chat with some of the guests and they were impressed and definitely puzzled by what they saw. We always enjoy talking to the guests after the show and we are totally tickled when the skeptics come up to us with comments like, "Amazing!" and "How did you do that?"  After our show, we got invited to join the guests briefly on the dance floor as the cruise prepared to dock.
This is what the event planner had to say about her experience with us:
"RainMaker Software is a provider of financial and practice management software for mid-to-large sized law firms. Each year we host a Client Conference somewhere in the U.S. and this year we landed in our company's hometown of Philadelphia. During our three-day conference, we host two evening events for our clients.

This year we chose to go on a cruise down the Delaware River for one of our evening events.  We took our group of 80 (or so) folks on a three hour cruise down the river aboard the Spirit of Philadelphia riverboat. Aside from the dinner, dancing and drinks, I wanted to add an additional element of entertainment.….and then I found Larry and Raven, the mentalist act. From my first contact with Larry and Raven, through to the post performance, they were a delight to work with. Not only were they entertaining, but they brought a unique element to our conference that we have never had before. Our clients were definitely entertained and they were the hot topic of discussion the next day at the conference. Everyone had their theories on how they were able to 'read minds' and know things that they couldn't possibly know! Even the cruise staff was gathered around during their performance.

It was a great night of entertainment and I would recommend Larry & Raven to any event planner looking to entertain their guests in a way that they probably have not seen before. I'm sure it will still be a topic of conversation at next year's conference as well."